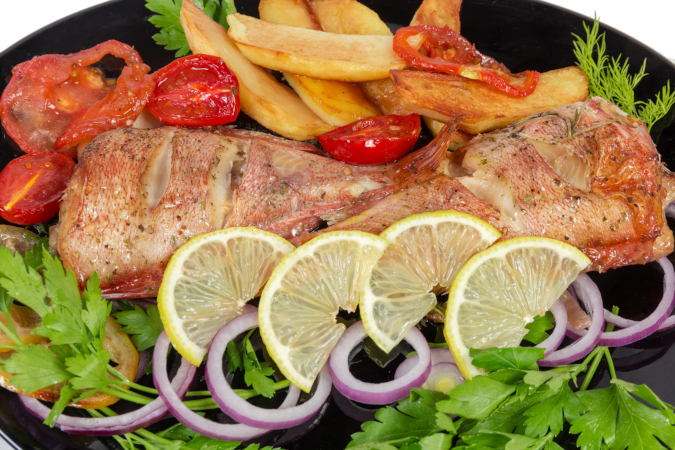 Redfish or Ocean Perch (Sebastes Fasciatus/Sebastes Mentella) are two very difficult to distinguish species that are sold commercially as redfish or ocean perch, both species are members of the scorpion fish family and distantly related to rockfish species in the Pacific Ocean. Redfish is a sweet mild tasting fish which turns opaque white when cooked and is most often enjoyed as skin-on fillets or cooked whole. Redfish are commercially harvested throughout the North Atlantic.
Scotia Harvest Inc. and our fishing partners hold significant historical and current quotas for redfish throughout Atlantic Canadian waters, the majority of our redfish is currently harvested in the deep waters off the coasts of Nova Scotia and Newfoundland. Our vessels and other affiliated vessels harvest redfish year-round. Currently, the redfish population in the area defined as Unit 1 and 2 (Gulf of St. Lawrence and Laurentian Channel) are in the midst of a population explosion and managed correctly should result in a generational opportunity for significant redfish landings over the next decades. Scotia Harvest Inc. is an active participant in both the science and management processes with redfish, also our vessels are used as survey platforms to collect information to help better manage these stocks.
Our redfish fillets generally range in size from 1-6 oz and our Royal Fundy Brand always contains a pure and natural product without additives or preservatives. We sell fresh whole redfish, frozen headed and gutted redfish, graded fresh redfish fillets, and frozen redfish fillets as graded Individually Quick Frozen (I.Q.F.) fillets, graded frozen shatterpacks or graded frozen cellos.
If you're looking for top-quality, wild-caught Canadian redfish products direct from the ocean to your customers, please contact Laure O'Neil or Glenn Wadman by email or at 902-245-6528.